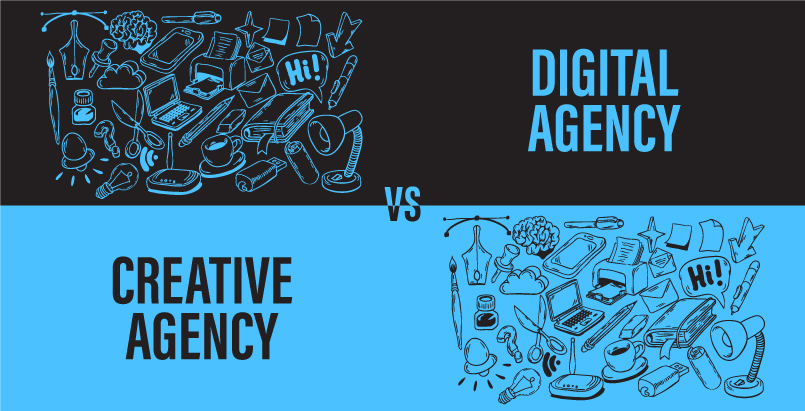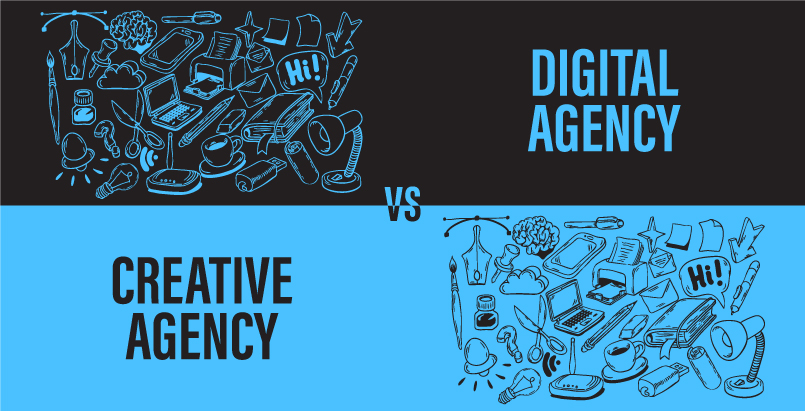 As brands in India look forward to creating a digital presence to improve visibility, the plethora of advertising agencies in Mumbai can spoil anyone for choice. How does one choose the right agency? What are the different types of agencies to look for? The most common confusion among start-ups and other business organisations is the choice between a creative agency and a digital agency.
Defining a Creative Agency and a Digital Agency
A creative advertising agency or a creative design agency in Mumbai focuses on creating content and visual elements for the brand. The visual elements can range from logos, colour schemes, banners, designs for newsletter, emailers and infographics to creating videos and television commercials for a brand and so much more. Creative advertising agencies in India mostly function on a client-centric approach, where the priority lies in the preferences of the client, to provide a better experience.
On the other hand, a digital agency provides creative, design, strategic direction and technical developments for digital platforms. A full-service digital agency delivers a wide range of services like app development, SEM, SEO, social media marketing, content creation, online lead generation, brand development, website design, media buying, OOH advertising, email marketing, web development, media and mobile campaigns, and much more.
Major Differences in a Creative Agency and a Digital Agency
A digital agency strives to provide a comprehensive range of marketing services to its clients, focusing not only on the marketing strategies but also the execution, however, the creative advertising agencies in Mumbai, in most cases, solely focus on creating a brand image, with the help of creative content, logo designs and other branding collaterals.
Although both a creative agency and a digital agency ensure that their services include strategies for print (offline) and online advertising, digital agencies have a much stronger game in the digital ecosystem, as they utilise their expertise in the new media and provide assistance in web development, maintenance and also, pay-per-click ads.
The workforce in both digital agencies and creative agencies in Mumbai are quite different, owing to the variation in priorities, when it comes to dealing with the clients. The digital agencies have an ample mix of professionals, who can belong from different backgrounds like art, content, media, marketing and even IT. In creative agencies, the workforce is mostly from a creative background.
In recent times, creative designing agencies in Mumbai are making the shift into becoming creative advertising agencies, by adding marketing strategies in their list of their services. What they lack in technical services, they provide in creative content, that now involves website content, blogs and social media content.
What Helps to Make the Choice?
Although there are major differences in a digital agency and a creative agency, the lines are blurring with time. Creative agencies have become as comprehensive as their digital counterparts. One needs to choose an agency that understands the brand's essence and their requirements, and has a plan for the future, to provide the best of marketing services.
The choice of an agency should depend on the abundance of unique and 'work-able' ideas, dynamic pitches, their expertise in planning and strategising - keeping in mind the USPs of the brand, creativity and worth the investment.
We, at Collateral, believe in creating the best creative & digital solutions for your brand. Our young and experienced team will help your brand reach your consumers in the most effective manner while driving the metrics of the process. Ask us about our approach and get to know the kind of ideas our team can deliver. Contact us on our website www.collateral.co.in. Know more about us today!