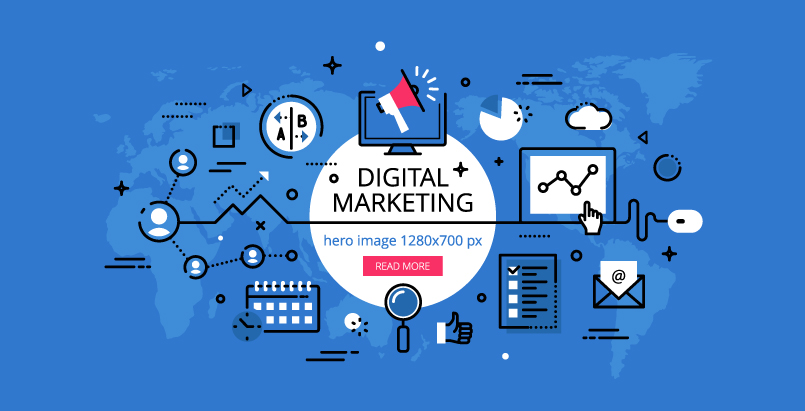 Effective marketing is all about measurable results. With the evolving market and the need for personalisation, it is important to gauge the impact of your digital marketing strategies with an accurate tracking and reporting process.
Although humans are complex and considered unpredictable, a lot of their behavioural patterns, mind-sets and thoughts can be predicted with simple science and observation. Most marketers use a three-pronged fork, as they optimise, prove the effectiveness of the strategies put in place and constantly work their way through it from time to time to cater to their audiences. In simpler terms it is an endless cycle brands need to follow in order to keep their business on an upward graph: Research, Build, Implement, Measure and Manage Results.
We cut it all down to 3 simple steps to devise, predict and gauge effective campaigns that would help you gain desirable ROI and results.
CAMPAIGN
The core of strategising a good digital marketing campaign is to keep your message, goals and objectives clear. A thorough market research would not only help you understand the market and their needs better, but also give you an in-depth insight about your competitors. Along with a realistic budget, follow this four step process to plan an effective digital marketing campaign.
Market Research and Competitor Analysis
Conduct an in-depth market assessment of where your brand stands amongst competitors and your progress in terms of penetration into the market. It is vital to know the depth of waters you stand in, in order to set goals that will help you convert your weaknesses into strengths. Pick the region, target audience and ask the right questions to get quantifiable data for your market research and competitor analysis.
Define and Set Measurable Goals
Most marketers often tend to jump to the nuts and bolts of their campaign and hence, may tend to lose their way in the process. While your goals may range from increasing footfall on your website, to garnering more likes and followers on your social media handles, or to merely spread awareness, either way, it is necessary to take a focused and conscious approach in order to set measurable and crystal-clear goals.
Define Consumer Personas
Now, that you have all the data and goals set for your digital marketing campaign, you must understand consumer personas and create content in accordance with it. What are their likes, dislikes, trends and aspirations; are few questions one must consider while writing and creating content for these varied personas.
Pick the Right Medium
Catch your audience at the right time, at the right place. The earlier conducted market research would come in handy here, to help identify their content consumption pattern and to reach them at the prime time to ensure effectiveness of the message to be delivered. For instance, your professional B2B target audience would be more actively found on LinkedIn and emails whilst the younger mass would scroll through Facebook and Instagram through their day.
TRACKING
For the generation that tracks everything right from workouts to personal followers and likes, brands need to put in that extra effort to constantly track their performance and take decisions through their ever-changing behaviors. With plenty of tools to choose from, some of the platforms you can opt for basis your campaign are:
Google Analytics
Google Analytics is one of the most common tools used to measure footfall on your website. It gives detailed information about the visitor, the source or the place where they came from along with the medium. It also has an added 'campaign' parameter feature which could help you funnel down your traffic, furthermore.
MailChimp
MailChimp is a drag and drop email editor with multiple templates to choose from. With customizable content you can gauge the revenue generated from each email and monitor many other analytics.
Hootsuite
This social media marketing and management dashboard helps integrate all your platforms into one easy space to give you one-handed access and control to your content. Schedule your content and save tons of your precious time with Hootsuite.
REPORTING
While most of the platforms help you with a performance report, KPIs, footfall, bounce rate, etc. on a timely basis, it would stay incomplete until we cumulate it and go back to our initial stage of analysing our goals and our results with insights. A detailed report that speaks about the ups and downs, failures and star points in the campaign needs to be made. This can be referred to in the next campaign plan to avoid the mistakes and to device a better plan.
As mentioned earlier, marketing is a never ending cycle that brands need to play on loop in order to get better and battle the competitors. Campaign planning, tracking and reporting is a constant role that will help you leverage your brand through trial and errors. (Leaving less room for mistakes) While market research, creating content, tracking, reporting and analysing these moves on a daily basis may seem a little overwhelming, it is a good idea to leave it to the experts. We at Collateral, with years of expertise have responsibly helped leading brands across the globe to help achieve their goals with ease. Contact us at collateral.co.in to get your personalised plan to take your brand to the next level.